Autumn & Zach's Rye Beach Estate Wedding
For some couples, wedding planning can be a lengthy process. For Autumn & Zach, that wasn't the case! When Autumn's dear mom called me a few months ago to excitedly share that Autumn & Zach were getting married. I first met Autumn and her family three years ago when her sister, Jacqueline, married Joshua. Even since then, I have been looking forward to the day that I would be able to work with all of them again. Needless to say, I just could not say no when I was asked to capture Autumn & Zach's wedding, too!
This past Saturday, September 10th, was the day that Autumn & Zach would be wed. The weather gods blessed us with a light cloud cover and glorious sea breeze off Rye Beach. With a view of the ocean and seagulls sailing through the sky, Autumn got ready with her gals in the super cute cottage of the private estate while Zach was with his guys in another home on the grounds. With their rings (his was made of meteorite and dinosaur bones!) tied on a piece of driftwood, Autumn donning her dress from BHLDN, and Zach's boutonniere pinned on, the couple made their way to Rye Beach with their guests for their intimate wedding ceremony. Surrounded by their closest family & friends and with their son looking on, Autumn & Zach exchanged rings and performed a hand fasting ceremony under the arbor his father had painstakingly built all summer. It was absolutely perfect in every way!
With their vows sealed with a kiss, the party was ready to start under a gorgeous white tent on the front lawn on the main house. There were lots of laughs and a few tears as the toasts were made. Their cake, made by one of their guests, smelled incredible and apparently made an excellent face mask (right, Zach?). And their dances with their parents left us all a bit misty eyed, especially when Zach's sister sang during his dance with his mother. Their family and friends kept the dance floor hopping long into the night with the sound of waves crashing on the beach nearby. It was the perfect way to start the next chapter of their lives together!
Autumn & Zach, thank you so much for letting me play a part in your incredible wedding day. You are so fortunate to be surrounded by so many awesome people and baby O is so lucky to have you two to call his parents.
Here is a sneak peek of what is to come for the newlyweds!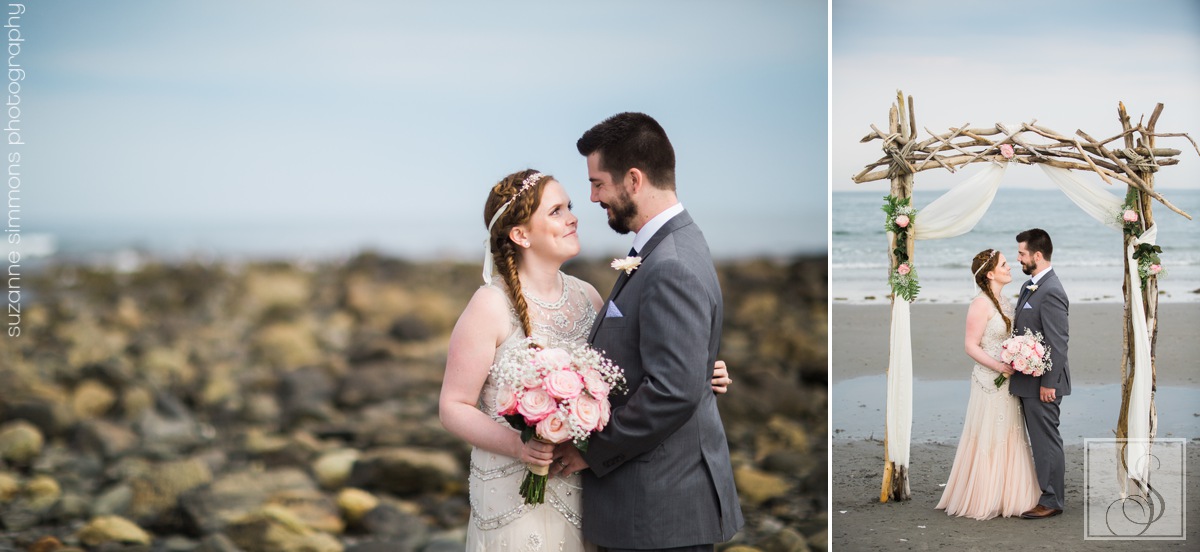 Getting Ready & Reception: Private residence in Rye Beach, New Hampshire
Ceremony: The Beach Club in Rye Beach, New Hampshire
Bridal Gown: BHLDN
Groom's Apparel: Men's Wearhouse